A personal statement for university is an essential part of the application process.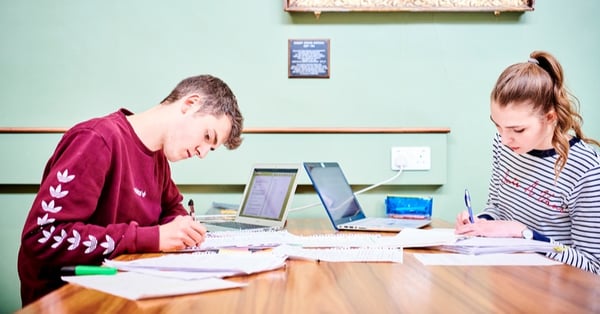 It shows how your academic achievements, extracurricular activities and other relevant experiences have made you interested in taking the course. With university places in high demand, your personal statement gives you the perfect opportunity to stand out.
Although you won't need to follow a set structure, we have an example to get you started.
Start with why the subject interests you...
It's important that your personal statement shows the university why you want to study on their course.
There's no need to go right back to your childhood, but make sure you have a paragraph that outlines why you want to dedicate the next few years of your life to this course and why you're interested.
Business Management example
Growing up with both of my parents running their own businesses gave me an early interest in how businesses work, especially the relationship between the workforce and the employer and how this affects the huge decisions companies have to make in order to succeed.
I have a strong ambition to use my knowledge to develop a career within the business sector. I am looking forward to learning from a wide range of modules in areas associated with running businesses such as ethics, entrepreneurship and business analysis.
Mention any extra activities you have taken part in that relate to the course
You need to show that you're serious about studying your chosen topic and the best way to do that is to talk about your previous experience.
If you want to study Business Management, for example, it could be some work experience you've undertaken. Anything you've done related to the course that wasn't compulsory looks great to the university. Make sure to talk about the skills you gained too.
Biomedical Science example
My voluntary work experience at a doctor's surgery gave me an exciting insight into the healthcare industry. The best part of my week was shadowing the general practitioner. I had the chance to watch him talk to patients, quickly extract key information and identify potentially serious conditions to escalate.
This has led to my interest in gaining a better understanding of how the human body functions in health and illness. I want to play a role in developing preventative approaches or new treatments for a range of common diseases.
Include any specific books, talks and theories you have engaged with
This doesn't have to just include textbooks or lessons from school, but the studies outside of the classroom. This will show the admissions tutor that you are excited to learn about your subject and you have the motivation to get out there and understand more.
Law example
Through my wider-reading, I discovered in American criminal cases, defendants did not receive a lawyer until 1963. In 'Gideon Vs Wainwright' the Supreme Court unanimously interpreted the Fourteenth Amendment to provide counsel for those who need it.
I want to read more about Law and take my degree further by becoming an advocate for justice.
Showcase your skills
Make sure you get across the skills and attributes you have to study on the course.
You can include examples of when you've worked under pressure, met a tough deadline or got full marks on a difficult test.
Computer Science example
I created a new programme with my classmate. This project has helped strengthen my programming capabilities, taught me new skills and also strengthened my basic knowledge.
Make your conclusion memorable
Make sure your personal statement has an obvious ending. It's important you talk about the key points to show how amazing you are and why they need you on their course.
Civil Engineering example
I believe that my passion for science, combined with my enthusiasm for problem-solving and overcoming difficult challenges, will allow me to succeed in this course. I have confidence that engineering is a field where I can apply my skills best and use my potential.
Important information to know for your personal statement
UCAS says a personal statement shouldn't be longer than 4,000 characters. It's also important to structure your personal statement in clear paragraphs.
Don't be tempted to copy a personal statement from online or your classmates. Every personal statement received by UCAS is added to their personal statement library, which means they're able to quickly identify if your personal statement is too similar to someone else's.
As an international student, there are a few extra things you should mention in your personal statement.
why you want to study in the UK
your English language skills and any tests you've taken
why you want to be an international student rather than study in your own country
You might think it's too soon to start looking for jobs and building your professional identity. However, it's never too early to make sure you're on the right path to your future career. That's why we've created our helpful 'Get Work Ready Guide'.
Get ready with our guide to work, CVs and interviews
At Newcastle University, we're dedicated to supporting you in whatever career path you take. We can help you with everything you might need but there are certain things like interviews and securing a job in the UK after university that you have to do by yourself. Don't worry, you can always ask our Careers Team for advice.
Download your own guide now for tips when it comes to CVs and working life.