If you're looking to meet like-minded people and have fun doing something you love at university, then look no further. University clubs or societies can fill up your social calendar with memorable events that will make your experience even better. At Newcastle University, we have over 160 different clubs and societies waiting for you to enjoy - so we're sure you'll find exactly what you're looking for.
From tennis to mechanical engineering, here's what you need to know about joining clubs and societies and the many options you can choose from.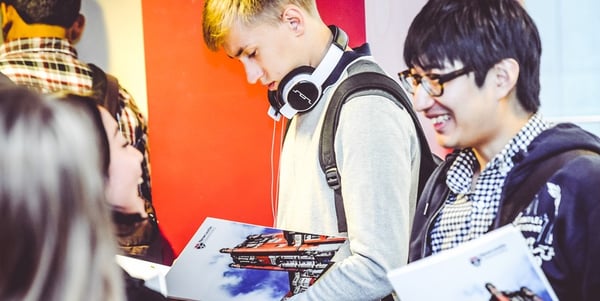 How do I know which society is for me?
Joining a club or society enables you to meet people outside of your course and your accommodation. Most importantly, it's one of the best ways to feel involved with the university.
You shouldn't just pick any club or society from a long list. Instead, use freshers' week to visit the fairs and stalls to find out about the wide range of societies on offer.
During these fairs, try and visit all of the stands and don't just stick to the activities you know. You never know what you might discover.
Then, sign up for any clubs and societies that interest you. This doesn't mean you have to become a member right away. You may receive emails about upcoming events and this can help you decide which one you want to join.
Where can I find out about university clubs and societies?
Other than fairs, seeing the full list of clubs and societies will give you an understanding of what's available to join. This is beneficial if you're not comfortable trying new things right away and want to read more about them before making any decision.
This can vary from university to university. However, we have everything you need on the Newcastle University Students' Union website.
What are the types of university clubs and societies I can find and join at Newcastle University?
There are over 160 different societies and clubs for you to choose from. If you somehow don't find anything you really like, then there's nothing stopping you from creating your own and making a real difference.
Although this can vary from university to university, we've made it really simple to join a club or society at Newcastle. Once you've decided on the society you want to join, log in using your Newcastle University details and join the organisation of your choosing on the relevant society page.
To see the amazing range of options we have available at Newcastle, here are just some of the many clubs and societies you can try out and join.
Arts and culture
Law
Engineering
Countries and languages
Medical and science
Gaming
Sports
These are just some of the many different types of clubs and societies that we have on offer at Newcastle University. In fact, there are so many options that we can't possibly list them all here (otherwise we'd be here all day!).
At Newcastle University, you can even get involved in the Give it a Go scheme. It's the perfect way to try something completely new with no commitment or experience needed. Plus, there are hundreds of activities and events each term you can try.
Or, if you want to give your time, energy and experience to help others, then there are plenty of volunteering options available at Newcastle University as well.
If you want to see a full list of the university clubs and societies at Newcastle and the types of activities in each, then click here. Or, if you want to try a new sport or continue one that you already love, see the full list of sports clubs you can be a part of in Newcastle.
Now that you have a good idea of the clubs and societies you can get involved in at Newcastle University, it's time to think about how you can make the most of your time in this amazing city.
---
Download our undergraduate guide to 2020 study
Choosing to study abroad is a major decision. Make sure you have all of the information you need by downloading our guide to studying in the UK. It includes budgeting tips, how you can get around here, what life is like when you study in England and everything you could need to know about the types of university in the UK.
Get your free copy of the eBook now by clicking on the link below.