After you've submitted your university application, it can be a matter of days, weeks or months before you hear back with a decision. It can be an invitation to attend an interview or even an offer from Newcastle University.
It all depends on the course you've applied to, when you've applied and how the university makes its offers.
Don't worry, you don't need to refresh the UCAS website every hour to see who has responded. Here's what you need to know.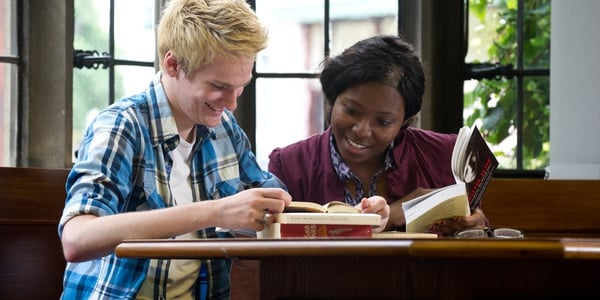 Why universities can take longer to respond to applications
Every university in the UK and its departments will have a different method when it comes to responding to university applications. Remember, universities have thousands of applications to check, so it's likely to take some time.
Keep the following in mind:
There's nothing wrong with applying early, but it means you shouldn't worry if it's taking a while to hear back. In some cases, decision-making might only start once the deadline has passed and every university application is in. So, even if you submitted your application early on, you might be waiting for months.
It depends on the university. Some universities will have exact dates when applicants will know if they've been accepted or rejected. Others may check applications regularly without any fixed dates in place, reviewing them as they go along.
For some courses, you might get invited to an interview, after which you'll be offered a place or rejected. If you do, then the university will only offer you a place or reject your application once the interview has been completed. Check your course requirements beforehand to see if you'll be required to attend an interview, although it's highly unlikely.
That's why you shouldn't be worried if your friends hear back before you do - it all depends on the university and their process!
At Newcastle University, each application received is considered in accordance with the Newcastle University admissions policy.
What you can do to make sure your application is checked on time
The most important thing to do is to submit your application before the deadline. This will help your chances of having your university application checked by the Newcastle University admissions team.
It's important to start your application a while before the deadline. Why? Well, you'll have more time to check for any small mistakes and correct them. Or, you'll have even more time to work on your personal statement so you can show what you're interested in and express yourself.
Here's what else the process includes so your application is correct the first time:
use the UCAS tool to find the course you want to study or view the full list on the Newcastle University website
when applying to Newcastle University, the institution name is NEWC and the institution code is N21
include your personal details and qualifications
choose up to five courses
add your personal statement
include a reference from a teacher, adviser or a professional who knows you academically
submit your university application before the deadline
pay the application fee
wait patiently to hear back with a response
When's the latest a university might respond to your application?
Based on the applications submitted in 2019, here's a rough guide to the latest you can expect to receive a response from a university.
If you send your application by the mid-January deadline, you should expect to get a response by early May
If you send your application by the late-June deadline, you should expect to get a response by mid-July
As some universities act sooner than others, it still might be a while before you get a response. This is because most course deadlines stay open until the end of June, so universities like Newcastle might wait for the deadline to pass before checking your application and responding.
Your Newcastle University application is just one of the things you need to track to make sure you're fully prepared for your exciting move to the UK.
---