If you're interested in studying in the UK, you probably already have good English speaking and writing skills. However, you might be asking 'how can I improve my English outside of the classroom?'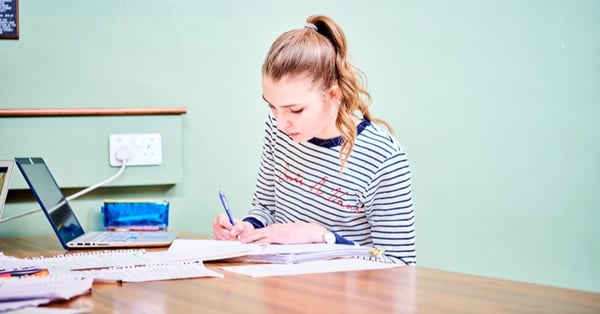 Here are some useful tips to get you started plus some helpful information regarding university support.
Keep a notebook of new words and phrases you learn. Brits use lots of interesting words that you might not know
If you don't understand something, don't be afraid to ask someone. Ask your teacher or other students for help
Watch English-speaking films and TV shows. You can always rewind if you missed something
Don't be scared of making mistakes because that's one of the best ways to learn. Just try to correct your errors and keep talking or writing
If you forget a word you want to say, try explaining it in a different way. You might learn something new in the process
Start an online blog and share your writings with the world and other students
Learn English songs and sing along to them. You can even invite your friends for karaoke
Use student forums and blogs to chat with other students. You'll learn all of the little words and phrases that might not be in your textbooks, which can help you enjoy your study abroad experience even more
Read your favourite books, magazines or blogs in English. It's easier to learn when you're enjoying the topic
Try to find an opportunity to speak English whenever you can. Talking in English, especially with other nationalities and native speakers, will help build your confidence
What can the university do to help me?
The UK attracts over 450,000 international students every year so don't feel like your English has to be perfect. You'll most likely meet other students from your home country and can rely on them for support.
You can also always reach out for help. Universities like Newcastle University offer a support system if you're worried about English not being your first language.
There is also English language support available throughout your time studying with us. We offer free English lessons throughout the year, including classes in:
academic writing
listening and speaking
presentation skills
pronunciation and grammar
Our Language Resource Centre is open to anyone who wants to learn or improve a language. Why not take a virtual tour of the Language Resource Centre? It contains useful resources, such as:
newspapers, books and other resources in over 50 languages
24 satellite channels in 17 languages
over 800 foreign language films
Now that you know how to improve your English outside of the classroom, it's the perfect time to go to the city and put it into practice. Learn more about what Newcastle's student-friendly city has to offer.
Want to improve your English in this student-friendly city? Discover Newcastle with our guide
Newcastle is so diverse - it would be hard not to fit in here. You'll always find something to experience, whether it's visiting the theatre with friends or exploring the city.
We have everything you need to know when it comes to getting around the city, the best places to dine, shop and more. Use our guide to learn about the exciting sights in Newcastle and confidently practise your English outside of the classroom.
Get your copy now using the link below.