The UK has produced some of the world's best engineers, such as George Stephenson who invented the steam locomotive train and influenced railways that we use today. It's the perfect place to study engineering thanks to the world-class universities and amazing career opportunities that are available.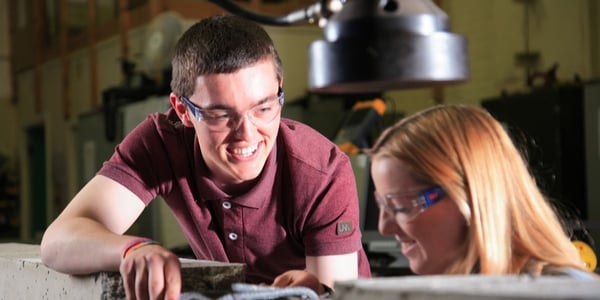 Why you should study engineering in the UK
The UK's history of engineering
World-leading universities to study at
Fantastic career opportunities after you've graduated
Master English while studying in the UK
The UK welcomes international students
One of the top engineering universities in the UK
1. The UK's history of engineering
George Stephenson is just one of many influential engineers who were born and worked here. The UK has a long and proud history of engineering that goes back hundreds of years. This love of engineering still exists today with the UK government spending billions of pounds on new projects and innovations.
Study engineering in the UK and your inspiration will be all around you. Visit the London Underground or travel along the Channel Tunnel and see amazing engineering projects up close. Here in Newcastle, explore the Victoria Tunnel and see how it's been used over the years. First, to transport coal and then as an air shelter.
2. World-leading universities to study at
The UK has a well-earned reputation for world-class universities. Whether it's engineering or any other subject, students here receive high-quality teaching from universities and degrees that are recognised by employers around the world.
UK universities attract the brightest minds in engineering. So, your tutors and lecturers will be doing industry-leading work that you can be a part of. The facilities you'll use are state-of-the-art, ranging from microbiology laboratories to marine technology tanks.
3. Fantastic career opportunities after you've graduated
It's never too early to think about your future career. Engineering offers lots of different career paths, especially in the UK. There are graduate schemes, work placements and a wide range of businesses looking for engineering graduates.
Throughout your degree, you'll benefit from Newcastle University's many partnerships with global engineering giants like Dyson and Siemens. This valuable experience and the network opportunities available will help you be successful in your future career.
4. Master English while studying in the UK
You'll already have a good understanding of the English language but study in the UK and you'll use it every single day. You'll get to know specific engineering terms in English and be able to talk perfectly about any specific topic.
This will help your future career because the number of engineering jobs available to you when you graduate will increase if you can read and speak English fluently. It's the language of business and you'll be expected to know it if you want to apply for a job at an international organisation.
5. The UK welcomes international students
International students come from all over the world each year to study in the UK because of the amazing universities and the welcome they receive. UK society is made up of cultures from all over the world which is why it's so vibrant and diverse.
You'll receive a particularly great welcome from Newcastle University if you choose to study here. Our student support team is available whenever you need them. They can help you with general advice, budgeting and anything else you might want to talk about.
6. One of the top engineering universities in the UK
Newcastle University is the perfect place for you to study. We're one of the top engineering universities in the UK and we're proud to continue the region's rich history of innovation. There are a range of engineering undergraduate courses for you to choose from, including chemical, civil, mechanical and marine technology.
Because 86% of our research is world-leading or 'internationally excellent', the work you carry out while studying will be recognised by employers all over the world. You'll develop the skills and knowledge needed to have a successful career as an engineer.
Deciding to study abroad is a big decision. The UK is a fantastic destination for you to study an engineering degree, but before you apply, there's a lot you'll need to do.
Essential information about studying abroad
If you're thinking about studying abroad, then we know you'll have a lot of questions. Studying a degree in another country is exciting and an experience you'll never forget. But before you apply, make sure you know everything you need to.
We've created a free study abroad starter guide that's filled with important information and advice. It'll help you make sure you've sorted everything you need before you go and then has tips on having the best time once you're here.
It can help at all stages of your university journey, so download your free copy now using the link below to get started.