Choosing a university is one of the biggest decisions you'll ever have to make. It's hard enough when it's a university in your own country, but when it's thousands of miles away, the choice might seem even more difficult. To make things a little easier, we'll run through the different types of universities in the UK..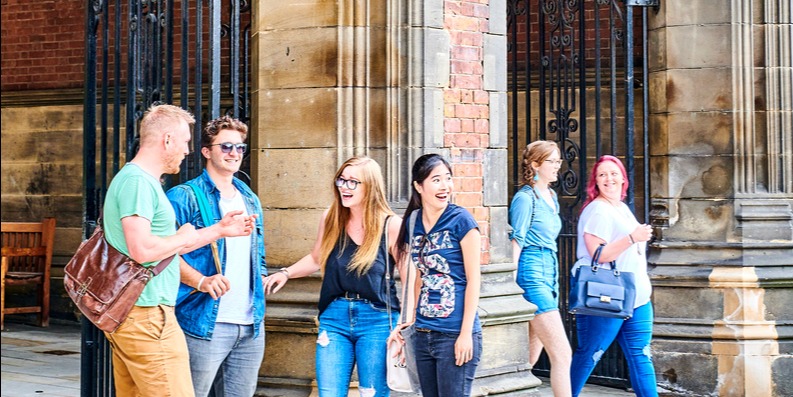 UK universities: what's the difference?
Russell Group universities
Established in 1994, the Russell Group represents 24 leading UK universities that are committed to industry-leading research and an outstanding learning experience for all students.

Many of these institutions were formed in the 1800s. Their commitment ensures they get the majority of funding from the UK government, allowing them to continue to drive innovation and produce high-level graduates.

Students at these universities not only benefit from being part of a global research community, but they can also enjoy a rich and vibrant social culture as well. Russell Group universities offer a multicultural experience with societies to suit every hobby or interest.

Plus, because they're based in major UK cities, there's always something to do or somewhere to visit.

Newcastle University is a founding-member of this group and we're joined by other prestigious universities like Edinburgh, Oxford and Cambridge.
Ancient universities
Interestingly, the three universities we've just mentioned are amongst the oldest universities in the UK and were founded hundreds of years ago. These are still part of the prestigious Russell Group and are also known as 'Ancient Universities.'
Due to being so historical, these Ancient Universities often have lecture rooms and corridors housed in hundreds of years old buildings. Oxford is the oldest and is able to trace its roots back to 1096. Did you know, that the University of Oxford is older than the Aztec civilisation?
Polytechnic and metropolitan universities
These universities have evolved from polytechnics, further education colleges and other higher education institutions to become the popular universities that they are today. In comparison, they've received their university status more recently, although they may have education roots that go much further back.
Even though they're often the 'second' university in a city (in some people's eyes, maybe), each will have its own particular expertise. For example, University of Liverpool and Liverpool John Moores University are both in the same city and each has its own strengths.
These universities are often smaller and can be in smaller cities or towns, so they might not be able to offer the same variety of social activities as Russell Group alternatives in the bigger cities. Bolton, Huddersfield and Staffordshire may be some of the universities in this group, for example.
Which type of university should you choose?
So, we now know that there are three different types of university in the UK - Russell Group, ancient and metropolitan. You'll be moving to the other side of the world, so you need to make sure that you choose the right one to suit your wants and needs.
The ideal university should have a welcoming community which makes it easy for you to make friends once you've arrived. It should have an impressive campus that's an eclectic mix of buildings and workspaces. For example, here at Newcastle University, we have all kinds of things to welcome students to the community.
Most importantly, it should provide an excellent learning experience that ensures you graduate with a degree that will help you to start a rewarding career in your chosen industry.
There are pros and cons to each of the three different types of university. For example, Oxford and Cambridge require the very highest grades and can be overwhelming for students that aren't prepared for the intense workload. This can be especially difficult if you're on the other side of the world from your family and support network.
The Russell Group universities focus on social wellbeing, as well as their research and outstanding courses. There are a wide range of societies and clubs that can make you feel at home and help you to develop a new group of friends.
Metropolitan universities are usually great places to meet new friends and explore new interests, but employers sometimes rank degrees from these institutions below those from Russell Group universities.
The choice is yours. The UK has a fantastic mix of different universities so there's something for everyone.
---
Choosing to study abroad is a major decision. Visit our dedicated International Students page to find out more about what it's like to study in England.