In the UK, an undergraduate degree is earned when you complete an undergraduate course at university. As part of this, you could do assignments, modules, practical tests, exams and more so you can qualify in your subject and start applying for your ideal job.
Understanding what an undergraduate course is a question lots of students have about university. Here are the answers to other questions you might have.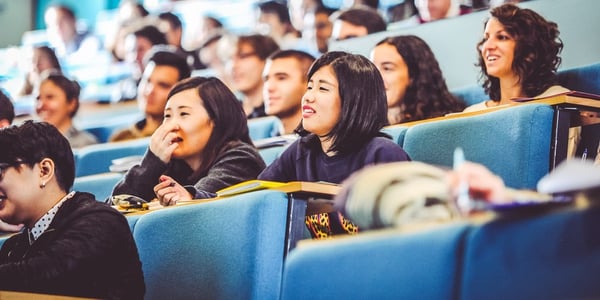 How long do the courses last?
It typically takes three to four years of full-time study to complete an undergraduate degree. Although, it can sometimes take longer as some universities include the option of a work placement, so you can gain valuable work experience during your degree.
For example, medicine and architecture are two qualifications where you need to complete further studies. However, compared to places like the US, UK courses are typically shorter. Find out more about the comparison between UK and US universities here.
How do I find a course?
Before applying, think about whether the course is something that you'll enjoy, and if it'll help you get your ideal job. Some ways to find a course include:
By spending some time researching this way, you'll learn much more about what's involved in the course, the topics you'll cover and so much more.
Can I study abroad?
Yes! Studying abroad is a once in a lifetime experience where you'll have the best time of your life. It's a chance for you to try something different and experience new cultures.
By choosing a country like the UK, you could study at one of the world's best universities. Here are even more reasons why you should study abroad.
Do I need a visa to study?
Yes. The main routes are Tier 4 and Short Term Study. Most students coming to the UK to study for courses lasting longer than six months will apply for a Tier 4 General visa.
Read this blog to find out when you can apply for a visa, how you can apply, what you can do in the UK and more.
How can I pay for my degree?
This depends on the university you apply to and the course you study.
For example, student loans from the UK government aren't available for international students. But you do have some financial options available which can help fund your studies. Student loans from third parties, private funding and scholarships are three options. Get more information about scholarship opportunities by reading this blog.
How do I apply?
You'll need to register and apply with UCAS to study at a UK university. This organisation is responsible for the application process. Here's what you'll need to do:
choose your degree
choose your university
fill out the UCAS form, add your personal details, qualifications, a personal statement and a reference
send your application and wait to hear back
Here's a more in-depth guide on UCAS, how it works and what you'll need to include.
Where will I stay while I study?
One of the most important decisions you'll make as a student is your accommodation. Research your options early and explore university accommodation.
Types of accommodation can vary between universities. Usually, you'll have a choice between halls of residence, self-catered halls and catered halls. Here's more information about the types of university accommodation options available to you and how you can apply.
How many university applications can I make?
At a UK university, you can submit a minimum of one application and a maximum of five. If you want to study medicine, veterinary science or dentistry, then you can only select four choices.
If you apply for one of these courses, then you can still apply for a fifth choice but it can't be in medicine, veterinary science or dentistry. one of these options. Here are some tips to help make sure your application is as good as possible.
How will studying abroad help my future career?
You'll gain a lot of valuable skills when you study abroad which can help you in the future. By studying in the UK, you can continue to improve your English skills, which is something employers all over the world are looking for.
It also shows that you're not afraid to try something new and you'll meet so many amazing people. You never know which friend or tutor could one day end up as your business partner or colleague. Plus, it makes you even more responsible and independent than you already are.
Read this blog to find out even more reasons on how studying abroad will help your future career.
Will I get advice for my future career?
By studying at a university abroad, you'll still get careers help when you need it. Along with university blogs, you'll be able to speak to a university's careers service. They'll be ready to offer lots of support and advice to help you decide what to do once you've graduated with your degree.
You'll be able to get help with your CV, applications, career planning and so much more. Careers services are there to help you succeed. Don't be afraid to ask for help if you ever need it once you're at a UK university. You can find more information here about some options for your career and some tips to help.
It's easy to forget about things when you have so many questions about university. Now that you have the answers, it's the perfect time to get your study abroad starter guide to plan your ideal career path.
Find out more about studying at a UK university
Preparing to go to a university abroad is exciting. The university you attend will help you get the ideal job that you want, so it's important you make the most of your time there. To help, download our guide to find out how studying abroad will benefit your career prospects.
You'll even get some tips on what to do before you leave, what to do when you're abroad and when you return home. Get your free copy below.