There are lots of universities from around the world that all seem like good options to study at. To narrow down your choices and pick the right university for you, look out for those that are prestigious. Prestigious universities offer industry-leading research, state-of-the-art facilities and give you the best support to students starting on their career path.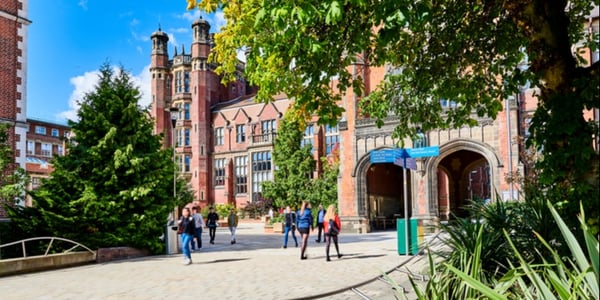 What makes a university prestigious?
Prestigious is a word that's used to describe a small number of universities in the UK that offer an outstanding learning experience. Here are a few features that a university will have so you know it's prestigious:
Modern facilities and learning equipment
It's committed to industry-leading research
They're part of the Russell Group
They ensure there's a supportive environment for all students
Modern facilities and learning equipment
Whether it's a library packed with unique books and digital resources or a laboratory that contains cutting-edge technological equipment, the very best universities ensure you have all the tools you need to succeed.
Whatever degree you're studying, choose a university that has amazing facilities for students to access. It's always better to learn by actually using equipment rather than just reading the information in a textbook.
To see a university's facilities, try and attend an open day. We know that's not always possible, so to help prospective students we offer a virtual tour. You can explore Newcastle University's campus and the city from your own computer or smartphone.
It's committed to industry-leading research
Tutors and students at prestigious UK universities work on industry-leading research in a wide range of areas, including healthcare, engineering and scientific advancements. This commitment to learning and innovation means they can receive large funding grants from the UK government.
This funding is used to continue the innovative research that students like you can be a part of. Being a member of a team that's working on industry-leading research will provide you with valuable experience which can help to build your CV and your future career. Employers will be impressed that you've been carrying out this work and see you as a great candidate.
At Newcastle University, we offer a wide range of support services that will help you to take the next steps in your career. From CV tips to advice about starting your own business, our careers team are available to help.
They're a part of the Russell Group
Russell Group might be another term you encounter when looking at UK universities. The Russell Group is made up of 24 universities, including Newcastle University, the London School of Economics and the Universities of Oxford and Cambridge.
These are some of the oldest universities in the UK and they're members of this elite group because they offer the best possible learning experience for students. They produce industry leaders and more than two-thirds of the world-leading research carried out by UK universities.
Newcastle University is a founding member of the Russell Group and since it was established, we've continued our commitment to innovative research and improving our students' experience.
They ensure there's a supportive environment for all students
The very best universities create a supportive and welcoming environment for all students, regardless of where they've come from. Your time at university will be exciting, inspiring and memorable, but it can also be challenging.
Whether it's early problems with budgeting or you're having a little bit of an issue adjusting to university life, there will be help available. Newcastle University has an award-winning student support team who can help with any problem you might be dealing with.
There are also clubs and societies you can join. Meet new people who love the same things as you or try something completely new. You can view our full list of societies here.
They offer competitive courses that require challenging grades
A good sign of a prestigious university is a high demand for places. The application process at Newcastle University is always competitive each year. Prospective students need to achieve excellent grades in order to secure a place on the most popular courses.
We'd recommend starting your application to Newcastle University as early as possible to ensure an admissions tutor sees it. Our team are on hand to provide advice on your application and explain what happens during the process.
For an idea of the wide range of courses, modern facilities and amazing career opportunities available with a degree from Newcastle University, download our prospectus.
Start your journey at Newcastle University with a prospectus
Download our undergraduate prospectus today for all of the essential information you need to know about our campus, courses and the city of Newcastle. It's packed with details about our courses, student-run societies and amazing accommodation. Get your copy of the 2020/2021 prospectus now using the link below.