Studying at a UK university offers incredible benefits. You can meet new people, explore different places and take advantage of amazing educational research and innovation. It's an exciting time, but it can potentially come with issues like homesickness, financial worries or emotional problems.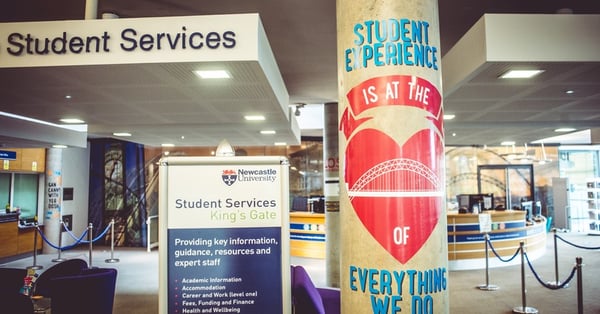 Here at Newcastle University, we want to welcome you into our safe and supportive student environment. Learn about what we and other universities can do for your health and wellbeing.
Welcome week
Counselling services
Physical wellbeing services
Online therapy
Mentor system
Welcome week
A warm welcome to the UK can help you quickly feel at home in this new place. Most universities will have a dedicated welcome week to help international students settle in.
when you arrive in the UK, we have a dedicated airport meet and greet service, which provides you with free transport from Newcastle Airport to your university accommodation
we have committed support and visa teams that can be contacted by phone, email or social media
ask about your universities' freshers week. It might offer events and activities that help students studying abroad to explore the city and make new friends. Your university might even host an International Welcome Week, with information and social events made just for you
Counselling services
The UK is focused on the importance of good mental health. The country has many charities and organisations set up to help anyone in need. For example, Student Minds is a charity set up to empower students when it comes to looking after their own mental health, supporting others and creating change.
Mental health is a top priority for us. Newcastle University offers counselling for any students who may be struggling through their concerns dealing with emotional or psychological stress. Our Mental Health Team provides help, information and recommendations so that students who are suffering from mental health issues get the help they need.
Students who apply for counselling are given the appropriate treatment after undergoing an assessment process, designed to provide you with the best treatment for your needs.
Physical wellbeing services
We recognise that physical wellbeing is just as important as mental health. Physical wellbeing is closely connected to both your emotional wellbeing and your ability to study efficiently.
Our online Physical Wellbeing Hub provides helpful information, resources and contacts.
As a University, we also recommend you apply our physical wellbeing initiatives into your student experience. We have information available on exercise, sport and mental health, food and wellbeing and the importance of sleep which you can take advantage of.
Online therapy
Here at Newcastle University, we operate Silvercloud which is an innovative and online suite of Cognitive Behavioural Therapy (CBT) programmes. They can be tailored to your individual needs as a student.
CBT is a method of trusted therapy which can help you to identify and alter negative patterns of thought, which can help you to feel better mentally. Silvercloud has been developed over the last 10 years and has demonstrated high rates of improvement for students who suffer from anxiety or depression.
What makes Silvercloud so user-friendly is that it can be accessed anywhere. All you need is an internet connection and a PC, tablet or smartphone. You can also contact Newcastle University Student Services who can help guide you.
Mentor system
Peer mentoring enables all students to become accustomed to university life and also settle in academically, socially and culturally.
Where possible, you'll be matched with a mentor who's studying the same subject as you. Mentoring is not counselling or therapy, however, your mentor may help you access more specialised services to help if it's needed. They are there as a helpful friend to give you advice.
If you need some more advice about your wellbeing at university, we have a useful guide with everything from tips about to emotional health to how to stay motivated.
Download our undergraduate guide to 2020 study
Studying abroad is an exciting time, but there may be things you'll need help with - like healthcare, financial support, emotional health and even meeting new people.
This guide will provide you with the essential information, assistance and support you need to enjoy your time at university.