Do you want to report on breaking news? Can you imagine yourself presenting radio shows or using world-class equipment to edit films? If you can, then a media-related degree is perfect for you.
When deciding where to study media, you want to know that you picked the right place. Here's what makes the UK one of the best places to study abroad if you love media.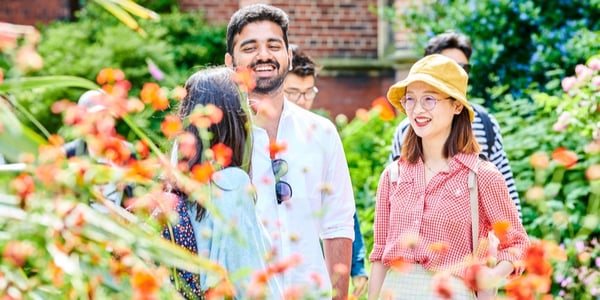 The UK has a rich history in media
The UK has a world-class media industry in print, film and broadcast. It continues to grow each year so it's hardly surprising that ambitious graduates want to work in the UK's film, television, and radio industries.
If you like print media, you'll be interested to know that the first English printing press (used to print newspapers) was set up all the way back in 1476 in Westminster, England. You'll also be pleased to hear that in 2016, the BBC started investing millions of pounds to help boost journalism in the UK.
Or if you want to get into television, an interesting fact to know is that the first demonstration of TV was shown in a London laboratory in 1926. Technology and the media industry has developed so much since then. Now we have things like Netflix and 4K HD channels.
Employment opportunities with a media degree
The great thing about a media degree is that you have so many future options, especially as universities offer degrees where film is combined with other subjects. This means you can study media alongside other subjects such as film, journalism and more.
There are lots of job opportunities in each media sector - so just pick the one you're most passionate about!
Journalism
Between 2012 and 2018, there was an increase of 18,000 journalists in the UK. If you want to be involved in breaking news, work in print or online, then journalism is an attractive sector to get into.
Film, TV and Radio
The film and TV sectors in the UK are always growing. The bigger they get, the more opportunities available for you. The industry loves hiring young and ambitious talent.
You can use the filmmaking and editing skills you gain at university to be the next big director, screenwriter or producer in the UK's film and TV sectors. You might also want to get involved in radio shows and podcasting - something that's also growing in the UK.
Music
The UK's music industry is growing all the time. There's more money invested, newer artists, bigger venues and more opportunities. You can use your media degree to help produce events, be a music journalist, marketing and so much more.
Theatre
You'll already know that William Shakespeare was born and lived in the UK, but did you know that the UK has around 1,300 active theatres? Theatres can offer creative opportunities, jobs and work experience, such as a stage crew member, set designer, a writer and more.
There are also initiatives like the People's Theatre that welcomes people who are interested in directing, set design, acting and more. The theatre puts on multiple high-quality performances every year, and trains its cast and crew to be the best they can be.
Why employers like media graduates
Employers in the UK love media graduates because you learn a range of specific skills. For example, you'll develop skills that help with marketing, PR, branding and customer relationships in an increasingly digital world.
Some of the skills you'll gain include:
research
communication
teamwork
time management
critical thinking
project management
self-motivation
and more
These are skills highly-sought after by employers. With a media degree and these skills, you'll be able to get into industries like film, publishing, television, public relations, radio and more.
Media work placements
One of the biggest reasons why you'll love studying media in the UK is because of the work placement opportunities. Universities help boost your chances of future employment by helping you spend a year getting valuable work experience.
You'll get first-hand experience and find out what it's like working in the media sector. You'll also show what you've learned so that you can develop your skills and career. For example, the BBC offers 1,000 work placements every year.
If you do really well during your work placement, the employer might even offer you a full-time job after you graduate!
What do UK universities have to offer media students?
To get your dream media job, you need to be sure that you've picked a university that will help you get there. The UK is one of the best countries to study in if you love media because of the world-class facilities and high-quality teaching methods.Some universities also have a highly active student media scene. This is perfect for developing your media skills even more. You'll have opportunities to get involved in student newspapers, student radio shows and other media projects.
While learning, you won't just be in a classroom either. Along with practical experience, you'll have access to:
professional video and audio recording equipment
support from technicians and tutors
specialist technology and software, such as Adobe Creative Suite
The UK is full of culture and media opportunities. It's a good idea to start planning your future media career in advance. It gives you plenty of time to decide which media sector you want to get into. It'll help you get your dream job after you graduate.
To help you make the most of your time here as a media student, we've created a free study abroad starter guide so you're prepared.
Start developing your media career with your study abroad starter guide
With our study abroad starter guide, you can plan out your career path. You'll understand how studying abroad helps, tips on what to do before you leave home, what to do when you're in the UK and more. Get your free copy below.