Studying at university is a really big stage in your life. That's why it's important to pick the right destination. Here's why you should move from India to study in the UK.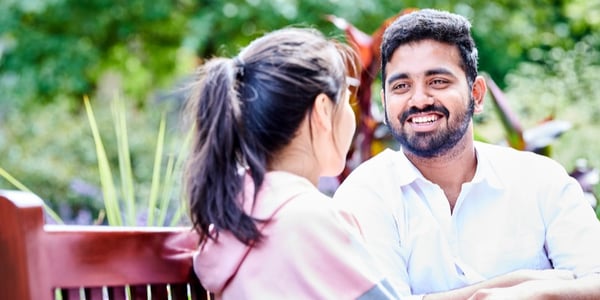 Access to internationally recognised universities and qualifications
The UK has a history of providing excellent standards of teaching. The degrees and qualifications you gain here are recognised worldwide by employers and academics. Examples include a degree in International Business Management, Chemical Engineering and many more.
The UK's education system is one of the best in the world, delivered by influential academics in world-class facilities. UK universities regularly feature highly in university rankings.
By moving from India to study in the UK, you'll graduate with the tools you need to succeed in your dream career. There are many well-known Indians who travelled to the UK to study and are now famous for their achievements, including:
Dr. Menaka Guruswamy - an Oxford university graduate who was one of the lawyers to win the case decriminalising homosexuality in India
Indira Gandhi - politician and the only female Prime Minister of India
Manmohan Singh - former Prime Minister of India
Cornelia Sorabji - the first woman to study law at Oxford University
Dorabji Tata - businessman and founder of the Tata Group
Soha Ali Khan - Indian film actress
Work while you study
Many Indian students in the UK gain work experience while studying. This is an opportunity to work in a multicultural setting. You can get a part-time job, internship, placement or do some volunteer work. The Newcastle University careers service will help you find work experience and volunteering opportunities. These are good ways of developing valuable skills that you can add to your CV.
Before this, check to see if you have a visa that allows part-time work by visiting the government website.
Global opportunities are available
Did you know that there are over 50,000 different undergraduate courses available for you to choose from?
While studying, you'll learn from world-class professionals and make connections with industry leaders in the UK depending on which degree and university you study at. Throughout your time here, you'll meet students, mentors and tutors from all over the world. This can help you progress in your future career as a truly global citizen.
In the UK, there's also a strong collaboration between businesses and universities. For example, Newcastle University has excellent global business partnerships that will offer you lots of opportunities.
Learn from leaders in discovery and research and get a well-respected job
The UK is also a popular destination for Indian students because there are many courses available that lead to well-respected jobs. The country also continues to have an important role in discovery and research.
Some of the world's most memorable innovations have come from the UK. Examples include turning plastic pollution into green energy, a bionic hand which acts like a real hand and many more advances in research. Students just like you have played a big part in the research and discovery of new subjects and innovative ideas.
If you want to be a part of research and discovery then look for Russell Group universities. Universities like Oxford, Newcastle, Manchester and Cambridge are part of this prestigious group.
Being a Russell Group university member shows a universities' commitment to research which has a big impact on global society. By moving to the UK, you can be a part of this.
There are currently over 450,000 international students studying in the UK. Indian students are actually the second largest group (over 18,000!) that study in the UK.
To make the most of your time in the UK, we've created a free study abroad starter guide which is full of useful information you need to know.
Develop your career at a UK university
It's a good idea to plan ahead of time so that you can get a highly-respected job once you graduate. With our guide, you can plan your ideal career path while you're still in India. You'll find out more about why studying abroad will help you, tips on what to do before you leave India, advice for when you're in the UK and more.
To get your free copy, click on the link below.