It's important to have a tidy LinkedIn profile. Having an up-to-date LinkedIn profile is like an online CV. It's the place to share what you're achieving at university, increases your employability and can be a valuable tool when looking for jobs.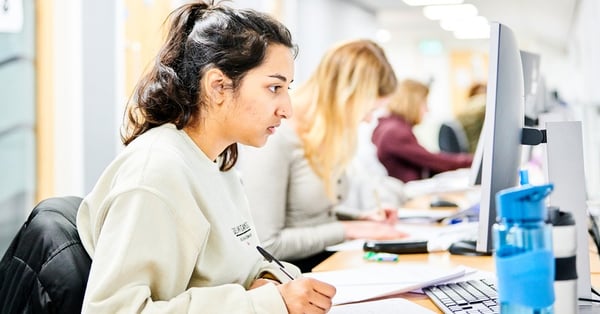 Here are our tips to help you make sure your LinkedIn profile is professional.
Tips for creating a great LinkedIn profile
When you're looking for a job, LinkedIn can help you network with people in unexpected ways and connect with leaders in the industry you want to work in.
You want your profile to stand out but this doesn't mean cluttering it with irrelevant information. These tips will help you keep your LinkedIn profile neat and help increase your employability.
Getting started
If you haven't got one already, create your LinkedIn profile as soon as possible. Employers often search for candidates to see their online presence, an effective LinkedIn profile is a positive thing for them to see. You can also connect with fellow students and lecturers whilst at the university.
Make sure your headline is memorable, like your personal branding statement.
Tidy up your URL to get rid of any random letters and numbers at the end. You can customise your URL to your full name so it looks more professional. If somebody has the same name as you, you can include your middle name.
Make sure your contact details are up to date so potential employers can contact you.
Update your profile a couple of times a term. If you complete an activity or join a society, update it to show that.
Profile
Make sure your LinkedIn profile is complete, with all your information and previous work experience filled out. Employers are more likely to look at a finished profile.
Take a professional picture of yourself for your profile - no mirror selfies.
Add videos, presentations and PDFs of your work onto your profile where appropriate. Future employers will like that you've showcased your relevant achievements.
Show your creativity with a header photo - it can be anything you like but make sure it's appropriate for LinkedIn.
Avoid any typos and mistakes as this can make your profile look unprofessional. Ask a parent or use Grammarly to spell check.
Add skills that are important for somebody working in your industry. You can use job profiles on websites like Prospects as inspiration. This can help you identify the skills you need.
Connections and recommendations
Connect with friends, family, people from university and workplace to build up your network. Where possible, connect with people working in your desired industry. You'll be able to see everything they share and interact with professionals daily.
Start approaching business mentors on the website. These are people who can help you develop your career and make contacts. You can find out more about that here.
Request a recommendation from a teacher, lecturer or previous manager. This will show people viewing your profile that you have the skills needed.
Find and join groups from the industry you want to work in. Start discussions and build your personal brand.

Remember, your LinkedIn profile acts as an online CV. Keep it up to date and professional if you want potential employers to consider you for their role. Now you know how to keep your LinkedIn profile organised, it's time to learn about the other factors that can help get you your ideal role.
Get ready with our guide to social media, CVs and job interviews
Don't worry if you're unsure about what you need for a successful career. At Newcastle University, we have a committed Careers Team supporting you in whatever career path you want to take. The team can help you with everything from advice on applications to interview prep.
If you'd like even more advice, why not check out our guide to CVs, cover letters and interviews? We cover everything you might need to know about finding a job after graduation, from CV and cover letter advice to interview tips. It's never too early to start preparing for your future career path. Download the guide now to find out more.