If you've always thought about studying a degree in another country but you were worried they wouldn't have your course, then think again. Business, law, medicine, media, engineering - whichever degree you're interested in, you'll be able to find an outstanding programme available abroad. Here are just some of the most popular study abroad programmes.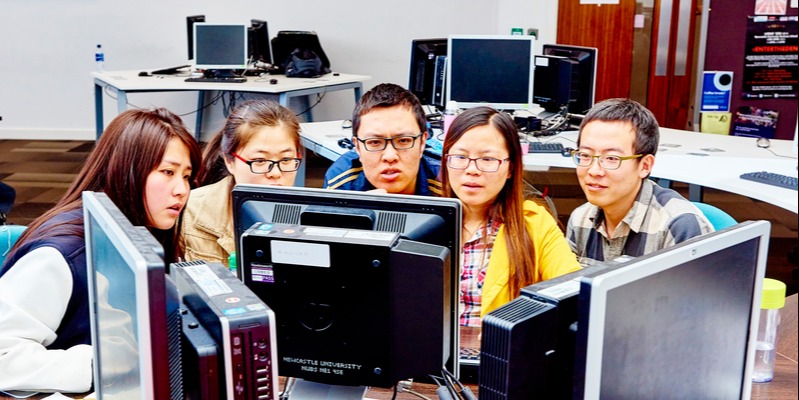 Degrees in your chosen subject are available all over the world. But for outstanding teaching and world-class universities, you should study in the UK.
UK universities offer thousands of different degree programmes for international students across the full spectrum of subjects. SI-UK have outlined the top 10 most chosen courses in the UK by overseas students.
10. Biological Sciences
Students on these degrees study infectious diseases and how science can be the solution to many of the world's biggest challenges. Study this degree and you'll receive practical experience that could help your future career path into conservation, research, laboratory work or medicine.
Many biological science courses involve fieldwork, giving you the chance to carry out detailed research outside of the classroom. You'll develop the skills and knowledge that you need to explore a wide range of possible careers.
9. Electrical Engineering
Next on the list are electrical engineering degrees. Choose this programme and you'll study how electronics are changing the way we live. Power generation, renewable energy and electric vehicles are just some of the topics you'll cover on this course.
The course will combine practical project work with research, giving you the skills you need to pursue a career in engineering. The wide range of subjects covered and the different possible career options make this a very popular choice with international students.
8. Politics
If you're interested in how your country has developed and the choices your government makes, then a politics degree is perfect for you. It's one of the most popular study abroad programmes with international students because you'll learn about global politics and international relations.
Studying politics is a fantastic opportunity to study the effect that historical events have had on today's society and how governments around the world approach today's challenges.
7. Mechanical Engineering
Perfect if you're good at problem-solving. Mechanical engineering gives students the skills they need to create products that are smart, cost-effective and environmentally friendly. The course usually covers topics like engineering, mathematics, design and manufacturing.
International students are typically attracted to this type of course because graduates can move into a wide range of careers. This includes design, production and manufacturing in sectors like health, defence and energy.
6. Computer Science
Although you'll start this course by studying the basics, you'll be able to specialise in video game design, data exploration, programming language or cryptography. This course is perfect for computer lovers who want to turn their passion into a career.
Today's reliance on technology means that the career options are limitless for graduates of this course. Possible job sectors include government work, banking, business and gaming.
5. Art and Design
Many international students head abroad to learn more about fine art and artistic technique. It's a great way of experiencing new methods, working with other students on large art projects, and exhibiting your work to diverse audiences.
Whether you're interested in sculpture, painting, textiles or another type of art, studying abroad will provide inspiration and improve your work. It's also a chance to network with influential artists and receive expert opinions on your pieces.
4. Economics
An economics programme is perfect for students who love mathematics and problem-solving. You'll learn about the global economy as well as the tools and techniques needed to understand modern economics.
An economics degree can lead to a career in finance, business, banking or management. All of these roles typically offer excellent salaries which is why economics is the fourth most popular degree choice for international students in the UK.
3. Law
Law has always been a popular degree choice with international students that want to take their first steps towards a legal career. If you're looking to eventually qualify as a lawyer, then this degree is a great place to start.
You'll cover public, land, criminal and EU law. You'll also develop the skills and knowledge needed to work in a law firm. Many international students come to the UK to study law because of the high-quality courses and the country's long legal history.
2. Accounting and Finance
Study accounting and finance abroad and learn all of the essential information needed for a future job. You'll study business law, financial accounting and auditing - all important knowledge that employers will look for in possible candidates.
Like some of the other programmes on this list, this course offers fantastic career options in roles around the world. UK degrees are recognised in countries across the globe, meaning you can take it anywhere and find an excellent job.
1. Business Studies
The most popular degree for international students in the UK is business studies. Business management is a fantastic degree for anyone who's looking to work for a major organisation, or even start their own business one day.
Students cover accounting, marketing, strategy and lots of other topics that give you the skills needed to be successful in the world of business.
Whichever degree you're interested in, studying it abroad allows you to access world-class universities, embrace diverse cultures and make memories that will last a lifetime. If this sounds like something you'd love to do, then make sure to download our guide.
Our study abroad starter guide
Download our free study abroad starter guide now for useful information and advice. It can help you to plan your studies, what to do when you arrive and even how to settle back home after you've graduated.
Get your copy now using the link below.