Engineering is a broad area, with lots of different specialisms which can then lead to lots of different career paths, especially in the UK. As an engineer, you can choose to specialise in the following (and this isn't exhaustive): chemical, civil, mechanical and marine technology.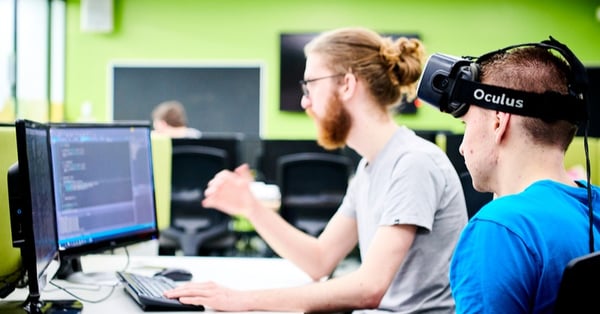 We've included a few examples and some advice, but there are lots of opportunities available to you.
What types of engineering careers are available?
There are opportunities for engineers in many industries, from aerospace and automotive to chemical and marine.
You could work in roles such as design, research and development, production or maintenance.
Depending on your specialism, here are some examples of engineering careers you could work in.
Once you've chosen a discipline, a great way to develop experience is to gain a place onto a graduate scheme. These are training opportunities offered to students by companies which usually leads to a permanent role within that same company.
It's important to realise that a permanent contract isn't guaranteed but you'll have gained lots of valuable experience which can help you find another role.
You can find them by searching online or asking for the Careers Service at your university to help.
What skills do employers look for?
The modern engineering workplace requires more than just technical skills. Technical skills are valuable but you will need more than just theoretical knowledge to ensure a successful engineering career. Engineers need to be able to function as a member of a team, think critically and have a strong work ethic.
This is why recruiters and hiring managers often look for a combination of technical ability and transferable skills including:
excellent problem-solving, maths and IT skills
strong technical knowledge and proficiency in specialist software, such as computer-aided design (CAD)
good communication skills and the ability to discuss complex information to non-technical colleagues
the ability to plan, prioritise and manage projects effectively
a commitment to keeping up-to-date with new developments
leadership skills and being able to work in many different teams
When applying for roles, you need to make sure you've highlighted the skills that are most relevant for the job. Be sure to list all your technical skills, degrees, certifications and other training on your resume. You can learn more about writing a winning CV for an engineering career here.
How do I develop my engineering career?
Study at a university that offers a top engineering degree
Newcastle University is the perfect place for you to study. We're one of the top engineering universities in the UK and we're proud to continue the region's rich history of innovation. There are a range of engineering undergraduate courses for you to choose from, including chemical, civil, mechanical and marine technology.
Because 86% of our research is world-leading or 'internationally excellent', the work you carry out while studying will be recognised by employers all over the world. You'll develop the skills and knowledge needed to have a successful career as an engineer.
Throughout your degree, you'll benefit from Newcastle University's many partnerships with global engineering giants like Dyson and Siemens. This valuable experience and the network opportunities that will become available to you can help you be more successful in your future career.
Network with people working in your sector of interest
Talk to people working in the sector to get an insight into the roles found in engineering. By networking, you can build relationships with people who might be able to help you achieve your career goals, from asking for advice and looking for a mentor to making speculative applications.
Search for Newcastle alumni on LinkedIn to view their profiles and find out what they did after graduation. You can even contact them for advice.
There's a great demand for graduates with engineering skills. There are graduate schemes, work placements and a wide range of businesses looking for engineering graduates. The options we covered in this blog are just some of the career paths available to you once you've completed a degree in engineering.
Whatever your interests or ambitions, you'll be able to use the skills you've developed during your degree to follow all kinds of different career journeys. We've got a resource that might help you with that...
Ready to plan your future career?
To start planning your future career, download our guide which is full of post-university options, vocational recommendations and interview advice. Get your free copy now using the link below and explore all of the amazing opportunities that are available.