Although not every student can attend one, an open day is your chance to ask anything you want to know about the university you want to study at. To get the most out of the experience, you'll want to be asking the right questions.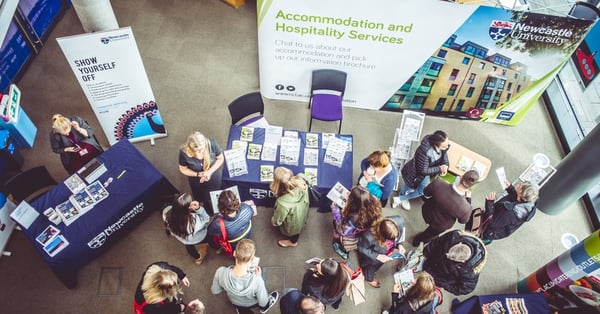 From course enquiries to campus information, here are some questions to ask at university open days.
Questions about the course
Questions about your personal statement
Questions about future career prospects
Questions about the campus
Questions about accommodation
Questions about social life
Questions about finance
Questions to ask current students
Questions about the course
Reading through a prospectus may not tell you everything you want to know. The best way to understand the course you're applying for is by asking these questions.
What are the entry requirements to secure a place on the course?
Is the course professionally accredited?
Can I apply for more than one course?
What's the teaching style like for the course I'm interested in?
What will I learn on the course?
How do they select which candidates are accepted onto the course?
Do I need to attend an interview to gain a place on the course?
Questions about your personal statement
Your personal statement is a short essay you write about yourself for the university admissions team. Its purpose is to show you're the perfect candidate for the course you want to study. Here are some questions to ask to make sure your personal statement is what they're looking for.
How can I make my personal statement stand out?
What are universities looking for in my UCAS application and personal statement?
What other experience should applicants include like extra curricular activities?
For more information on personal statements plus some actionable tips to help you succeed in getting on the course you want, you can read this blog here.
Questions about future career prospects
Before you even start at university, you need to think about your future. It's never too early to start asking the important questions about your career.
Will the university provide opportunities for me to develop my employability skills?
What job roles or further study have previous graduates gone on to do?
What Careers Service facilities are there for me to use?
What links do you have with employers within the industry I want to work in?
Questions about the campus and university
You're going to be spending the next three (or more) years of your life here. So, you need to make sure the campus and university facilities are right for you. Ask these questions to find out.
Is there a campus tour available so I can see the facilities, location and accommodation?
How will the university ensure I am safe on campus?
What facilities can I use for my course?
Are there any jobs on campus available for students?
Where does your university rank in the world?
How far away is the nearest supermarket from campus?
Do you have any other resources for me to read?
If you're unable to attend an open day to see the campus for yourself, some universities like Newcastle University have created virtual tours so you don't have to miss out.
Questions about accommodation
Choosing your accommodation for your prospective UK university is one of the most exciting decisions you'll make as a student. Make sure you ask all the questions you need so you can be comfortable and feel secure during your stay.
What accommodation options are available for undergraduate first-year students?
Is a place in halls of residence guaranteed?
What does it cost and what's included in that fee?
What happens in the second and third year of studying?
Is the accommodation secure?
Is it self-catered?
Questions about social life
There are lots of different things that need your time and attention as a student, including your social life.
Questions about finance
Studying abroad can be one of the most exciting experiences of your life but you need to make sure you can afford it. Ask these questions to find out more about fees and budgets required.
Questions to ask current students
Students attending your prospective university are a great source of information. So, ask them any questions you might have about courses, campus and general student life.
How are you finding the different teaching styles?
What is your favourite part about studying at this university?
Are the staff accessible and knowledgeable?
Would you recommend the course you're studying?
Did you experience culture shock and how did you overcome it?
These are just some of the questions you could ask at a university open day.Everybody's journey is different so you might have questions of your own too. If you can't attend an open day, you can contact the university and they can arrange a virtual open day or personalised visit to the campus.
There are also sites like UniBuddy that allow you to talk to existing students about life at the university, the course they study and anything else you may want to know about university life.

If you are looking for more information about applying to study at a UK university, our dedicated International Students page offers plenty of helpful resources..